Are you struggling to choose the best furniture for the basement family room? Then you have opened the right article to read. Here, I will provide you with all the information you need to know before buying the furniture for the basement. 
The basement family room is where you can enjoy a family discussion or watch a movie together. In addition, your children may enjoy playing indoor games or reading books by lying on the couch in the basement. 
The family room is the heart of the house. And if the family room is in the basement, you should consider some issues before selecting the furniture. Otherwise, the basement family room will not be comfortable for your family. 
You can find decorative, contemporary, or modern, stylish furniture in the online or offline marketplace. But due to lots of reviews and comments, you may be confused. I intended to remove all of your confusion. 
However, if you are running out of time, then for a quick suggestion, I would prefer to look for FDW Sectional Futon Sofa Bed. This sofa set's contemporary style comes in two colors and two sections. Easy to assemble the system and perfect for small to medium-sized basement family rooms.
10 Best Basement Furniture For Family Room: A Head-to-Head Comparison
This section will provide a quick review and a head-to-head comparison among the top ten best basement furniture.
| | | | | | | | | | |
| --- | --- | --- | --- | --- | --- | --- | --- | --- | --- |
| Name  | Color | Dimension | Seats | Weight | Shape | Piece | Material | Style | Price  |
| FDW Sectional Sofa  | Black & Brown | 75″ D x 107″ W x 34.6″H | 3 | 109.6 Pounds | Corner L, Corner R | 2 sectional sofa | PU Leather, and Faux Leather | Contemporary | Check here |
| Best Choice Products Furniture Set | Black  | 66 x 30 x 30.5 inches | 3 | 68.5 Pounds | Corner L | 3 sectional sofa | PU Leather, and Faux Leather | Modern | Check Here |
| Best-Living Sectional Sofa With Ottoman | Grey & Grey-Blue | 53″D x 77.5″W x 35″H | 3 | | Corner L | 2 sectional sofa | Fabric And Linen | Modern | Check Here |
| An Ainehome 3 PCS Sectional Sofa Set With Ottoman | 5 colors | 12.5″ D x 74.5″W x 32″H | 5 | 750-850 lb | L Shape | 3 sectional sofas | Microfiber & Leather | Classic  | Check Here |
| HONBAY Sectional Couch With Ottoman | 3 colors | 55.9″D x 112.21″W x 27.17″H | 4 and 7 seats  | | L shape and U Shape | 3 sectional sofas | Polyester | Modern | Check Here |
| Poundex Bobkona Viola Sectional Set With Ottoman | 2 colorsBlack and Grey | 34″D x 75″W x 35″H | 5 seats | 230 Pounds | L shape | 2 sectional Sofas | Polyfiber | Modern | Check Here |
| Best Choice Products Modern Sofa Bed | 3 colors | 21″D x 65.25″W x 31″H | 2 seats | 64 Pounds | Square | 2 sectional Sofas | Linen Fabric, Metal | Modern | Check Here |
| BEEY Sectional Sofa Set | Khaki Grey, Dark gray | 31″D x 72″W x 33.5″H | 6 seats | | L-Shape | 3 sectional Sofas | Linen Fabric | Modern | Check Here |
| Shintenchi Sectional Sofa Couch | 5 colors | 50″D x 78.7″W x 33″H | 3 seats | 44 Pounds | L-Shape | 2 Sectional sofas | Linen Fabric | Modern | Check Here |
| Zushule Sectional Couch  | 8 Colors | 60″D x 114″ W x 34.2″H | 3 Seats | | L – Shape | 2 Sectional sofas | Velvet Fabric  | Modern | Check Here |
10 Best Furniture For Basement Family Rooms: Review And Comparison
For a detailed discussion, I will put all the features, pros, and cons in the section below this article.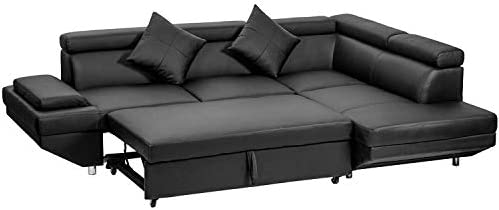 The FDW branded folding PU leather couch sectional sofa is a modern and luxurious piece of furniture for your living room. This corner sofa is easy to transport, and anybody can assemble it in their living room without expert help. Within five minutes, it can be assembled. 
Features With Benefits:
Comfortable Padding:
The sectional couch sofa is well cushioned from the back side, and the seating portion is also padded with soft cotton. The sponge inside the pillow will provide full comfort. 
Easy Dusting And Cleaning:
The contemporary upholstered Corner sofa is easy to dust and clean. Any liquid item can be easily wiped out if you mistakenly tipped off any. 
Sofa And Bed:
A couch sofa should be turned into a bed for the basement family. This sectional sofa will need only 3 seconds to make you a comfy bed. 
Low Maintenance:
The PU leather material is super durable, and only a soft piece of cloth can be used for cleaning. In addition, instant swiping out can prevent stains. 
Pros:
The longer chaise for comfortable sleep;
The arm style has a pillow top style;
Two matching removal accent pillows;
The frame material is wood, and the mechanism is metal;
Seating arrangement for 6 persons;
Stains resistance and waterproof PU leather material.
Cons:
It has only one stitched around instead of double stitched.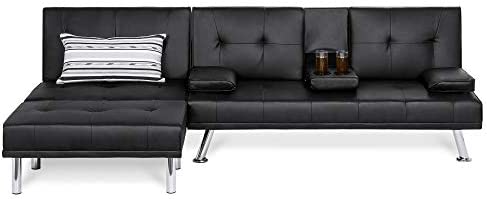 This best choice products brand provides you with a 3-piece modular modern sofa and bed set. Which is great for style and comfort in the cozy basement living room. It usually comes in an L-shaped sofa. It has multiple options to design this sofa set according to your choice and need. 
Features With Benefits:
Flexible Design:
Futons and ottoman can be settled in front of the set as a coffee table or footrest. Also, you can use the ottoman to longer the chaise for more comfy rest in bed. 
Double Or Single Bed:
You can convert this sofa set into a single or double bed. Easily adjustable for two people. The backrest is fully reclinable. So, it is used as a guest bed also. 
Fine Materials:
PU leather is being used here with full-firm cushioning. Moreover, the backrest is fully furnished, so you can relax after a long day. 
Long Durable:
The leather quality is super reliable and can last long if taken care of well. Polished chrome legs accentuate the look of the sofa.
Pros:
Transferred into a single or double bed;
3-piece sectional sofa with the 3-seat arrangement;
Comfy reclining backrest;
Easy assembly system with screwing the legs only;
Suitable for a 1-bedroom apartment;
The tea table can be customized.
Cons:
The sponge may be hard in some way.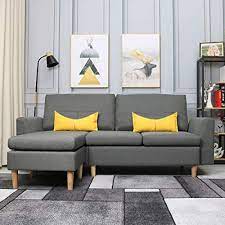 This modern small space sofa will be suited to a small space. It is popular among USA residents who live in a small basement area. For easy assembly features, availability in two colors, and comfy material provide an elegant experience for your family while sitting together and enjoying TV.   
Features With Benefits:
Adjustable In Cozy Space:
The adjustable chaise can be used as a stool for a footrest or a bed for a single person. It is an L-shaped sofa that has three seats. The sectional sofa can be decorated as you like. 
Durable Material:
The solid and sturdy wood legs support your whole family. The wood material is good enough to not crack for a long time. 
Comfortable Cushioning:
The high-density foams bring you total comfort. Also, the linen fabric of the outside surface is durable for daily and long use. 
Easy Assembly Process:
Anybody can assemble this sofa set by reading the packaging instructions. It is easy to maintain, washable and stretch-free. 
Pros:
The gray and the gray-blue color is stylish and unique for the basement;
The underneath S-Shaped springs are great for support and comfort;
The couch frame is made with solid wood and board;
The high-quality foam is soft and gets softer in regular use;
The linen fiber is easy to clean and wash.
Cons:
The back cushions need time to recover as it is vacuumed and packed.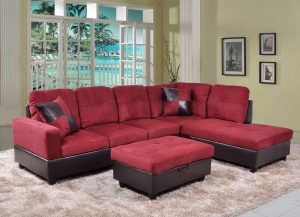 The classic-designed sectional sofa set comes in five colors. Right-hand or left-hand facing L-shaped sofas are available. The seating capacity is enough for a large family. Most USA residents who have spacious basements choose this sofa set as it fits the decorum of the living room. 
Feature With Benefits:
Modern Set Of Sofa:
The spacious sensational sofa set can be easily adjusted in cornered walls. The wide seats are comfortable, and the backrest is low for reclining. 
Multi Use Of Ottoman:
The ottoman can be used as a footrest, coffee table, and organized store. This allows you not to bring an extra coffee table. 
Supportive Material:
The wood is solid and thick so that it can support your family firmly. Two-tone microfiber and soft foam-filled seats are super comfortable and cozy. 
Choice Of Color:
The sofa has five colors: red, chocolate, espresso, brown, taupe, beige, and midnight blue. So those who love vibrant colors can get many options on the couch design. 
Pros:
Two accent pillows will be given to accentuate the sofa;
The arm style is square;
Has a compartment under the sofa which is space-saving;
The upper leather is stitched bold and solid;
Doubled thickened cushions are enough for comfortable seating;
The back cushions are removable.
Cons:
Commercial plastic legs instead of wooden legs.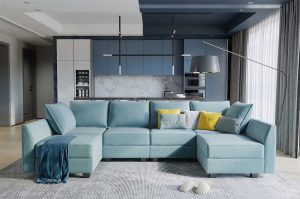 This luxurious sectional couch has keen comfort, and a unique design will give your living room a gorgeous look. The strong wood frame and premium foam will make family seating more enjoyable. You can find it in three different colors. Also, this modular sectional couch has a supportive flared armrest and solid legs. 
Features With Benefits:
Worth Of Good Money:
This pricey yet lucrative sectional sofa is a great deal of money. The back cushions are loaded with a high-density sponge that will not be crushed after sitting on it.  
Adjustable Chair:
The ottoman is customizable on both sides, left or right. You can use it as a footrest. Also, the seat has space inside to store many things.
Six Packages For Safety:
It comes in six different packages for safety reasons. Therefore, there will be no crushing or stains. Even sitting for a long time sitting on the couch creates no sloppiness in the couch. 
Suitable For Big Basement:
It has 4 seats and 7 seat options. A good fit for the basement. It creates longer space on the couch than usual. A perfect option for a big basement room. 
Pros:
Back cushions are removable and easy to wash;
Multiple color combinations;
Easily reversible and can be adjusted anywhere you prefer;
The fabric material is polyester and water-resistant;
Legs are black which glorifies the entire sofa;
Good investment for long-term use;
Can be used as a single bed.
Cons:
The fabric is not pet-friendly.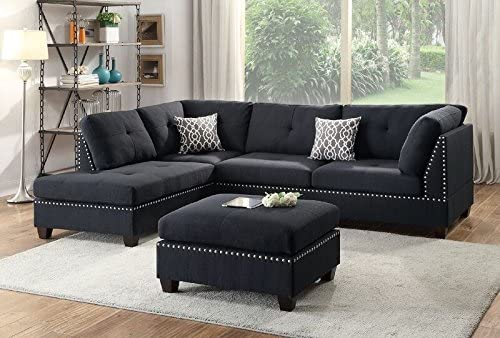 This 3-piece sectional sofa set is also bold and gorgeous. The spacious seating arrangement will provide you to enjoy the family get-together. In addition, the design of this sofa set brings a unique and luxurious look to your basement living room. No matter what color you choose, Grey or Black, this sectional sofa set will help you to provide good value for money. 
Features With Benefits:
Adjustable Chaise:
The chaise is removable and can be adjusted on the right-hand side or left-hand side, according to your preference. Easy moveable to other rooms also.  
Comfortable Cushions:
The seat cushions are filled with quality-full foam and springs. That provides you long time enjoyment and durability without any cracking. 
Ottoman Use:
The gorgeous and cushioned ottoman can be used as a tea table, footrest, or for an extended section for bedding purposes. But, of course, this makes the bed more specious. 
Easy To Assemble:
The product is light weighted and can be shifted to any room in the house. Also, the legs are super strong and don't need any external support. 
Polyfiber Fabric:
The fabric material of this sofa makes the entire look super classy and extravagant. It is easy to clean if any liquid items fall over. No hard chemicals are required. 
Pros:
Cushions are filled with perfect weighted foam that is super comfortable;
Tufted with button and stitched with bold;
Color Combination with legs color makes the sofa classy;
Strong support systems allow you to hold 5 people at a time;
Can be used as a bed for adult people;
Seats are not wide deep which allows the kid to sleep.
Cons:
The ottoman needs more space for storage.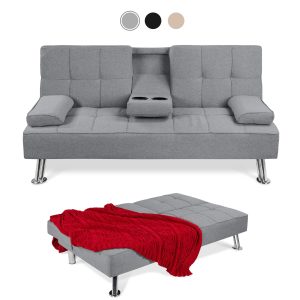 This best choice is a modern folding futon sofa bed that can easily fit in your basement living room or bedroom. It has a fully reclining back seat that can be folded to make a bed. The conventional bed is suitable for two people. However, the steel legs are strong enough to hold the weight of three adults. 
Features With Benefits:
Comfortable Positions:
The backseats are fully adjustable to enjoy movies, sports, and long discussions. Also, it is a removable arm pillow that can be used as a pillow for sleep. 
Solid Material:
The crafted linen material is super absorbable and easy to clean. Also, the 4 metal legs are strong enough to hold the weight of the sofa. 
Perfect For Small Families:
The USA residents with a nuclear family in a small basement apartment can easily afford this. It looks premium in a small basement family room.
Easy To Assemble:
As it is only a 61 inches length-sized sofa, it is easy to assemble. Easy to enter the entrance door and not seek the help of others to shift to another room. 
Pros: 
Comes with two cup holders in the middle of the sofa;
Stylish metal legs with easy fittings;
Crafted and tufted linen exterior give a luxurious look;
Colors of Black, gray, and beige are suitable for an elegant look;
Square sized shape will be fitted in the middle of the room;
Easy vacuumed clean or brushed clean.
Cons:
The bed may not be comfy for tall people.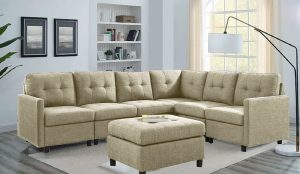 This will be their best choice for USA residents looking for a long spacious multi-seated modular sectional sofa couch set. This is one of the best pieces of furniture for the basement family room. It has a removable couch and can be decorated single or assembled. 
Features With Benefits:
Multi-functional Couch:
The modular sectional sofa couches are removable and can be used as a single chair. In addition, you can use the couch separately in other rooms. 
Eco-Friendly Linen Material:
The linen material is eco-friendly and can be washable with a damp cloth. It will not feel harsh to your skin and get no wrinkles while using it for a long time. 
Comfortable Material:
This L-shaped sofa set has a deep and wide seat. The backrest is reclining. The high resilience sponge and springs deliver you more comfort.
Long-Term Use:
This sectional sofa is constructed with a hardwood frame, which is strong enough to support the weight. Moreover, with regular maintenance, it is durable for a long time. 
Pros:
The ottoman is separate and can be used as storage;
The fabric is anti-wrinkle and anti-static;
Can be assembled in a corner space without any support;
Comes with tufted stitching;
Easily assembled in large or small spaces;
The cushion covers are removable.
Cons:
Some may feel uncomfortable sitting between them.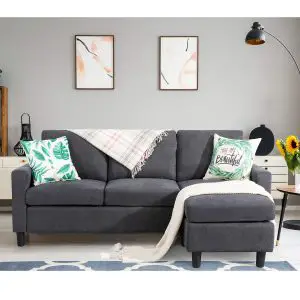 Shintenchi provides you with fancy and unique furniture for your living room. In the USA, one should try this brand for decorating the basement apartment. This furniture is cost-effective. The back couch is designed curved to relieve the pressure on the back. 
Features With Benefits:
Wrinkle-Free Cushion:
The cushions are made with fine materials and give you a cozy feeling. It will not wrinkle while sitting for a long time. The more you sit, the more it will open up.
Versatile Sofa Set:
The sectional sofa set has an extra wide chaise lounge. In addition, the reversible chair can be used as an extension for making the sofa a bed. 
Easy Assemble Process:
No need for any external tools for assembly. Anyone can install it just by reading the instructions provided by the package. 
Strong Frame:
The frame is constructed with strong metal. That can support the weight of the sofa well. 
Pros:
Cushion covers are removable for easy cleaning;
Comfortable cushions are filled with soft sponge and foam;
Linen material is harsh-proof for the skin;
Regular vacuum clean or damp cloth clean;
Velcro prevents the cushions from falling off;
Suitable for bedroom, living room, or studio apartment;
Comes in Light Brown, Dark Gray, Black, Light Grey, and Dark Brown.
Cons:
Cushions are vacuum packed and need 72 hours for the original shape.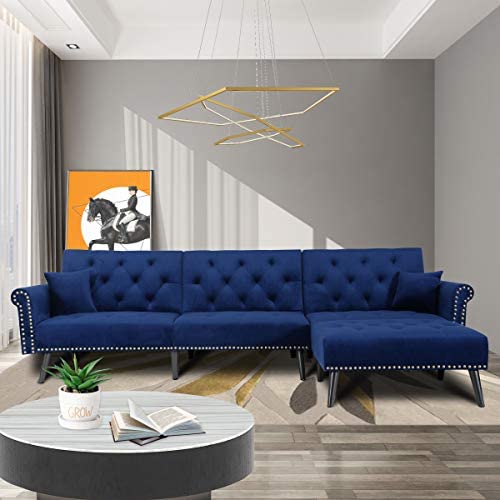 One of the best pieces of furniture for a basement apartment is the Zushule convertible sectional couch. It is imported and made in the USA. For comfort and durability, one can easily trust this couch. The L-shaped couch comes in eight different elegant colors. 
Features With Benefits
Premium Material:
The cushions are filled with high-resilience sponge and foam. As a result, the depth is perfectly maintained. 
Space Savings:
This sofa is easily assembled in a small basement living room and your bedroom. L-shaped furniture will be situated in the corner space. 
Reclining Backrest:
The backrest is fully reclining, so it can be converted into a bed. In addition, the removable chaise can be shifted at both sides, right or left. 
Classic Look:
The hook design of the couch's surface will make this sofa set elegantly gorgeous. In addition, it adds an affluent look to the entire room. 
Pros:
105-degree reclining backrest;
The wooden frame and legs are strong and durable;
The converted bed will accommodate two people;
The arm style is pillow-top;
Button tufted classic design;
Comes in Black, Green, Light Grey, Red, and Blue.
Cons:
The ottoman can not be used separately. 
Buyer's Guide:
7 Things To Consider Before Buying Furniture For Basement Family Room
Furniture is something very essential for the entire look of your house. No matter what type of house you belong to, you need to buy good quality-full, stylish and budget-oriented furniture.
There are lots of options available in the market. But some factors are related when choosing your furniture for the house. In the below section, I have mentioned what you should follow before buying furniture.
Be practical: 
Anybody may wish to have a center table furnished with glass or marble. But is it worth having pets or children in your house? I don't think so. Your basement furniture should be long-lasting. Also, the material should be PU leather, fabric, or something that won't hurt your children or pets. Family size and lifestyle are the second priority when buying furniture. 
Selection Of Color: 
Decorating the basement is not an easy task. The color of the furniture plays a vital role in the contrast of the basement wall color. Also, the color should not be overly deep if the basement has no windows. However, I think the basement furniture color should be mild. The light-shaded color will be appropriate according to the size and shape of the basement. 
Quality: 
You may use the basement as your second living room or as a guest room. Or you could use that room occasionally. That's why the furniture should be at a minimum price. Also, don't compromise on the quality.
There are many trusted online shops where you can get full-quality furniture at a minimum price. Keep in mind that basement furniture should be of good quality at a good price. You need to use the basement furniture for a long time. 
Size Of The Room: 
Most people make this mistake. They can select the furniture by looking at it. But this is not something you can cut down or reshape if the furniture doesn't fit in your basement.
After purchasing, there is no point complaining that the furniture got bigger than the room. Instead, always check the furniture size and take the perfect measurement of your basement.
Useful Furniture: 
Buy what you need. As your basement has limited space, you should not exaggerate the room with many unnecessary staff. Choose the furniture which has inner space that you can use as storage. The more you have, the inner space of the furniture, and the more your basement will be neat and clean. You don't prefer that books or toys get scattered on the floor. 
Safety Of The Children: 
Naturally, children will jump over the couch or table. The parent's responsibility is to ensure the children's home safety. That is why the furniture should be well shaped, so they don't hurt the children. The sofa set should be well-filled with foam or a sponge. Also, choose furniture with curved design rather than edge corners.
Budget: 
Nobody should consider this the most important factor before choosing any upmarket furniture. However, consider the budget if you wish to give the basement a minimal gorgeous look.
Your basement furniture should be available within the minimum budget. For example, you may buy a super classy pure leather couch. But for the space in the basement, this type of furniture will not be suited. Moreover, it will waste your money. 
Guide To Placing Furniture In A Basement In A Charming Way
Have you wondered if you can charmingly decorate your basement? Yes, basement furnishing is something you need to think about before approaching. But it is not a tough job that you can not handle. Instead, thinking about design and choosing the right furniture will make your basement cozy, comfy, and elegant. 
Step 1: Edit The Existing Furniture
The first step should be checking the unnecessary things you have in your living room. The perfect arrangement should be the priority when placing the furniture in your living room. Remove the small decor item which lay out on the floor.
As your basement family room is not spacious, you will need room for walkaways. Don't put any large plants in the small living room. Instead, you can put a small vase. This will make your living room more green and spacious. 
Step 2: Remove The Unused Furniture
In every house, there is some furniture which people don't use much. For example, the old rocking chair or woody chair. That may have been used once upon a time, but now you don't like it. Sell this to anyone who needs it or put them into another room. Place only the furniture in the living room which is functional and practical. 
Step 3: Spare The Pathways
Measure the living room before decorating the furniture. Always put the pathway away from any furniture. Usually, the basement family room is small. Suppose you put extra chairs, cabinets, or plants in the pathways or corridors.
In that case, it will create barriers to walking. Also, uncomfortable moving in the room will make the living room clumsy. 
Step 4: Place The Couch In The Corner
Make sure you have the perfect-sized couch for your basement living room. If you have a small family and buy a large sofa, it will block extra space. Many people choose large couches because they expect guests from time to time.
But the family room should not be the place for occasional use. It is for daily use. Therefore, place the medium or small-sized couch in the family room. Also, if possible, place it in the corner where the wall can be a support. 
Step 5: Multi-use Furniture
It is hard to remove furniture from the family room to make space. But with a little trick, you can do that easily. First, choose an ottoman that has storage space inside it. You can put books, toys, and newspapers inside the ottoman, and an extra shelf or drawer can be removed from the room. Also, choose a reclining couch instead of a rocking chair. 
Step 6: Place Furniture In Front Of The Window
Yes, you can place furniture in front of the window. But make sure the furniture is not a long bookshelf or Steady sofa set. Instead, you can place a small closet or shelf that does not cover the windows. Also, the bent-back seated sofa couch can be placed in front of the windows. 
Step 7: Placing The TV
In a small basement living room, the right place to have the TV is above the fireplace. You can fix the TV in the wall instead of having a TV stand. A TV stand or case will consume space in the family room. Placing the TV on the wall will give you a modern and rich look and reduce the cost of a TV showcase. 
Top 7 Basement Furniture Ideas In Your Budget
Do you want to give your basement family room a classy and upgraded look? Surely you want to. There are plenty of ideas that can help you to decorate your basement within the budget. In this article section, I will narrate the 7 best ideas for basement furniture. 
Update The Expired Furniture: 
Probably, you have a coffee table, mini storage box, or an old ottoman that is worn out. You are thinking of throwing them in the rubbish bin. But wait, why spend money buying a brand-new ottoman or storage box when you can just paint it? A high-gloss paint will suit the old furniture. The furniture will have a new look, and you can save money. 
You don't always have a solid wooden door in your basement. Good quality wooden doors will cost you a fortune. Why invest such a good amount of money? A smart sliding door will accentuate your room decor.
And it will be within your budget. Also, sliding doors save space. You can put light-shaded curtains on the door for a stylish and classy look. 
Don't put unnecessary lampshades in the basement living room. It will cost your electricity bill and also ruin the space. Only a pair of lamps for a small basement family room will provide a glamorous look. You can fix this beside the couch. Hanging lamps will also brighten up your small living room.
If you have a fireplace in your basement family room, you should repaint it. Some colors give you a vibe of a modern look. Such as shades of gray, black, white, or cream. These are some fantastic colors. Repaint the fireplace will make your basement living room new. 
Add Some Colorful Pillows: 
You may wonder why to put some extra pillows when you have 2 or 3 along with the couch. Well, multi-colored pillows will catch the eye of the viewers. Buy two or three pieces of the extra pillows with colorful covers. You can swap these pillows occasionally. Buying a few extra pillows will not cost you much. 
Right above the couch, you can fix a mirror or some painting. Some cost-effective mirrors or paintings are available in the street market of the USA. Select according to the size of your basement living room.
Don't buy a large mirror for your small basement family room. It will not look classy. Instead, small or medium-sized mirrors or paintings can play the part of accessories. 
Faux-far Covers For Old Couch: 
Suppose you are running out of money or are unsure whether to buy a new sofa set. In that case, you can simply cover the old sofa set with faux-fur covers. There are plenty of cheap sofa covers, yarns, and throws available in the market. Just need to select a matching color with the wall or curtains.
Related Questions:
What Kind Of Couch Is Best For A Basement?
Usually, the basement is the place where the family can enjoy their free time informally. They can sit together and gossip or watch a movie all together. Also, many of the basements in the USA are not large. That's why the best choice for a couch for the basement is a 3-seater couch sofa set. This can be L-shaped or U -Shaped. And most of the sectional sofa is space-saving. 
The couch style should be modular sectional. A sectional sofa set can be converted into a bed, which is super effective for guests. There is no need to arrange an extra bed in the basement. The modular sectional sofa set is best for the basement because it is removable and can be rearranged according to your preference. 
How Do You Make Your Basement Family Room Cozy?
You should follow some tricks to make your basement family room cozy. First, use side lamps or shades beside the couch in the basement. Most of the basement doesn't have enough natural light. If you end up only by overhead lighting, you may feel like you are in a cave. Also, you should use double-layer rugs. It will provide you warmth when you enter the basement family room. 
Decorate your fireplace with colors. Put some wooden frame to adorn the fireplace. As we all know, winter in the USA can be very tough. Spread a couple of blankets into your couch. These things will create the perfect ambiance in the basement family room to enjoy the winter evening coffee.
How Can You Make Your Basement Look Homier?
Home means where you can relax as you like. Use a couple of scented candles in the basement family room. This will give you a refreshing feeling when you enter the room. Don't let your books, toys, or paper be scattered on the floor. A haphazard room will ruin your mood. After a long day, you need to relax. A well-decorated basement family room can change your exhausted mind. 
Make sure the basement room is cleaned and vacuumed regularly. There is a shortage of light and fresh air in the basement. If it is not routinely cleaned, it will create a musty smell. That is not good for your health as well. Instead, use some light room freshener. Treat your basement family room like you treat your body. 
What Should You Add To Your Basement Family Room?
One should include a couple of important things in the basement family room for more comfort. First, a nearby bathroom will be a first-hand necessity. You don't need to spend a lot of money on it. A simple powder bathroom will be enough. The cleaning staff should be in the basement. 
LVP flooring is gaining popularity as a basement floor. It is easy to clean and water resistant. Whether you have a fireplace or not, you should keep a room heater in the basement family room. Also, make sure your basement is not uncomfortable due to a lack of airflow. Finally, install a carbon monoxide detector to detect leaks in the furnace. 
Conclusion: 
In the end, I hope you can clear all your confusion about the basement family room furniture. There are lots of ideas and budget-friendly furniture available in the market. Those can easily transfer the unused basement room into a comfortable, homey, and classy family room. 
Best Choice Products Modular Modern Sectional Sofa Set should be your choice for easy decoration. As it has 3-sectional couches, you can easily change the decorum of the basement. Best-Living Furniture sectional sofa set is a premium sofa for a small basement family room. It is cozy and perfect for a nuclear family. 
Many people fail to adjust in the basement only because of lacking knowledge of specific basement furniture. The main purpose of this article is to provide guidelines about the furniture of the basement family room.
References
Bortz, D. (2020, November 12). Best Places to Buy Furniture for Your Home. Consumer Reports. Retrieved December 19, 2022, from https://www.consumerreports.org/furniture-stores/best-places-to-buy-furniture-for-your-home-a5751689199/
Davidson, A., & Fazzani, L. (2022, September 24). Budget living room ideas: 20 ways to update without splashing the cash. Ideal Home. Retrieved December 18, 2022, from https://www.idealhome.co.uk/living-room/living-room-ideas/budget-living-room-ideas-307137